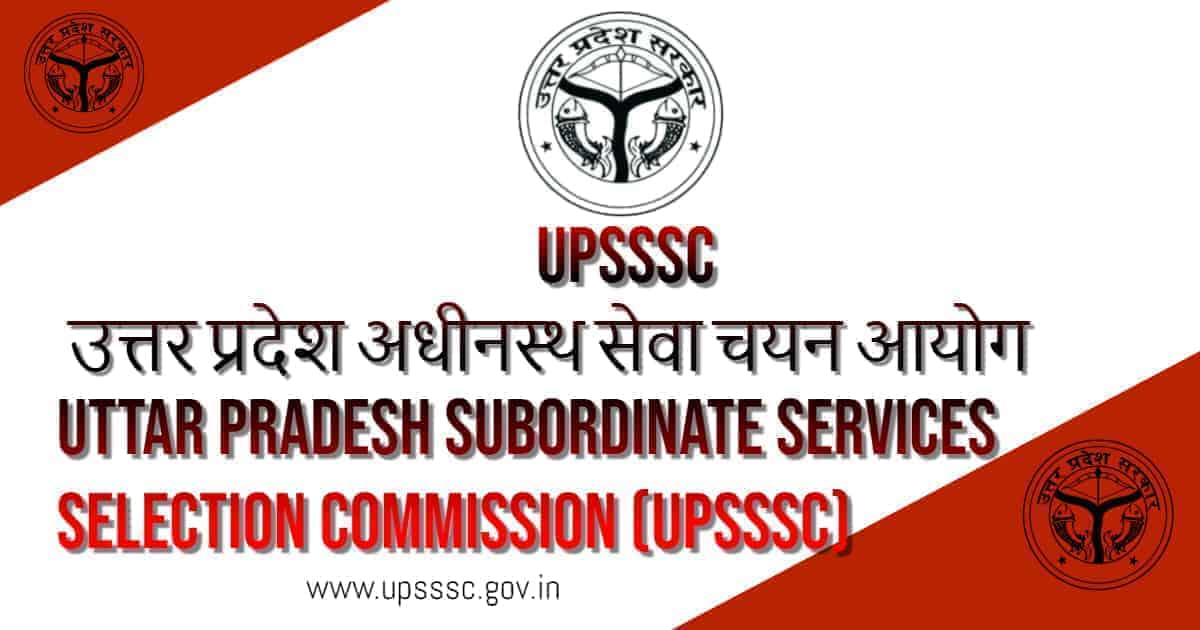 What is UPSSSC
The Uttar Pradesh Subordinate Services Selection Commission (UPSSSC) conducts exams on the to hire candidates for Group C positions for UP. This organization was started by the UP State Government in November 1988. Its headquarters is located at Gomti Nagar, Lucknow.
UPSSSC Full Form
Uttar Pradesh Subordinate Services Selection Commission
Advantages of Working under UPSSSC
Once you clear the exam conducted by UPSSSC,
You will be having a state government job in your hand.
You will be working as a Group C position.
You can work in your local region.
Your Salaries would be paid on time.
You won't be having much of work pressure.
You will be having a fixed work timing.
You will be availing of all the benefits of a government employee.
List of Exams Conducted by UPSSSC
Various exams conducted by UPSSSC are:
Amin Exam
Assistant Teacher Exam
Assistant Boring Technician Exam
Assistant Accountant Exam
Assistant Statistical Research Officer(AASRO) Exam
Assistant Statistical Officer (ASO) Exam
Assistant Bndrpal Exam
Assembly/ForestGuard Exam
Cane Supervisor Exam
Chakbandi Adhikari Exam
Combined Technical Assistant Exam
Combined Technical Services Exam
Computer Operator Exam
Chakbandi Adhikari Exam
Chakbandi Lekhpal Exam
Combined Medical Services Exam
Draftsman Exam
Driver Exam
Exercise Trainer Exam
Excise Constable Exam
Forest Guard (Vanrakshak) Exam
Gram Panchayat Adhikari Exam
Homeopathic Pharmacist Exam
Instructor Exam
Junior Assistant Exam
Junior Engineer Exam
Lekhpal Exam
Laboratory/Lab Technician Exam
Marketing/Supply Inspector Exam
Pharmacist Exam
Rajasva Nirikshak Exam
Revenue Inspector Exam
Sub Engineer Exam
Subordinate Agriculture Technical Assistant Class-III Exam
Stenographer Exam
Supervisor Exam
Tire Inspector/Vidutkar/Mechanic Exam
Tubewell Operator Exam
Tubewell Mistry Exam
Urdu Translator Exam
Village Development Officer Exam
Yuva Vikas Adhikari Exam
Job Location
Anyone who qualifies the job conducted by UPSSSC would have to work in UP. As this is a state government job the candidate would be allocated to work within the state. According to the requirements they can transfer the candidate from one city to another within UP.
UPSSSC Exam Level:
According to the number of positions and the job roles the level of the exam would be decided by the UPSSSC.
Job Type:
All the jobs that come under UPSSSC are State Government Jobs. Once the candidate is selected and hired they have to work under the state government.
Important Dates
All the Important dates including the Release of Recruitment Notification Date, Last Date for Submission, Last Date for Printing Online Application, Date of Release of Admit Card, Examination Date, and other dates would be mentioned in the official job notification which will be released in the official UPSSSC Website.
Total Vacancies for UPSSSC Exams:
According to the number of positions and the job roles the total number of job vacancies would be decided by the UPSSSC.
Exam Centres for UPSSSC Exams
As it is a state government exam all the exams would be conducted within the UP. These exams might be conducted in Schools or Colleges
Eligibility Criteria for UPSSSC Exam
Anyone who is between 20 to 35 years and has completed their 10th class can apply for this job. They have to be interested to work for Group C position.
Syllabus for UPSSSC Exams
UPSSSC Covers the following Syllabus:
Exam Pattern of UPSSSC Exams
For almost all the exam UPSSSC follows the following exam pattern
Duration: 90 Minutes
Type of Questions: Objective Multiple Choice Type and Written Exam
Medium: English and Hindi Medium
Negative Marks: Negative Marking of 1/4 Marks
Selection Procedure for UPSSSC Exams
Any Candidate who wants to get qualified in the exams conducted by UPSSSC has to undergo the following process:
Apply for the exam online
The candidate has to get shortlisted for the exam
The candidate has to attend the exam
The candidate qualify the exam
The candidate has to attend the interview
Application Fee for UPSSSC Exams
To apply for the UPSSSC Exams the application fee would be
The General and OBC: Rs 185
SC and ST: Rs 95
Physically Handicapped: Rs 25.
Job Profiles
UPSSSC Hires candidates for the following profiles:
Junior Assistant Examination- top class
Conductor Examination.
Stenographer Examination.
Clerk
Forest Guard
Boring Technician
Lekhpal
Pharmacist
Revenue Inspector
Junior Engineer
VDO
Driver
Tubewell Operator
Lower Subordinate Services
cane supervisor
Computer Operator
Assistant Statical Officer
Revenue Inspector Exam
Tire Inspector/Vidutkar/Mechanic Exam
Yuva Vikas Adhikari Exam
| | |
| --- | --- |
| EPFO Recruitment : Employees' Provident Fund Organisation | Read More |
| RPSC : Rajasthan Public Service Commission | Read More |
| TSLPRB : Telangana State Level Police Recruitment Board | Read More |
| TRB : Teachers Recruitment Board | Read More |
| UPPSC : Uttar Pradesh Public Service Commission. | Read More |
Pay Scale for UPSSSC Exams
For Different Vacancies, job roles, and profiles the pay scale would vary accordingly.
How to Apply for UPSSSC Exams.
To Apply for UPSSSC Exams follow the following steps:
Read the official Notifications for the job you are applying to. If you feel you are eligible for the job then
Go to the official site where you can apply for the job. ( One can find the link in the official notification)
Register yourself with the genuine email id and phone number.
Submit all the documents that are required including the photo and signature.
Complete the details, verify all the details and then submit your details to apply for the exam.
Once you have submitted then the page would be redirected to the payment gateway.
Pay the amount and generate the receipt.
Download the receipt and download the admit card.
UPSSSC Exams Official Recruitment Notification link
Currently, there are no official job notifications for the candidates. To get the Job official job notifications to keep updated with the official website. If you don't understand how to do that or if you feel it very confusing then you can subscribe to us to get the latest official UPSSSC Jobs notifications
ADMIT CARD for UPSSSC Exams
Once you have registered for the UPSSSC Exams you can download the admit from the official site itself after the registration once the payment is made.
PREPARATION STRATEGY FOR UPSSSC
There are a lot of ways to prepare for the exams, there are a lot of online course videos on YouTube. There are a lot of Free Mock Tests and previous question papers which you can use to practice for the exam
Some of the books that one can use to prepare for the UPSSSC Exams are:
Krishi Group C Practice Book
Tubewell Operator Solved Paper
UP Raajasv (Revenue) Lekhpal
VDO Solved Papers
VDO Set of 4 Books
VDO Solved Papers
VDO/ VPO Exam General Awareness
General Hindi Compulsory Paper
UP Police SI Exam Practice Book
General Hindi Solved Papers
General Study Exam Planner
Arihant General Knowledge- 2020
Many other general books can be used to prepare for the exam. Some of these books are:
Books to prepare for History
History of Modern India – Bipan Chandra
India's Ancient Past – R.S. Sharma
Spectrum Modern History
History of Medieval India – Satish Chandra
India's Struggle For Independence – Bipan Chandra
Books for Geography
Geography NCERT class VI to Class XII
Oxford School Atlas – Oxford
Geography – A Comprehensive Study – Mahesh Kumar Barnwal
Certificate Physical and Human Geography – Goh Cheng Leong
Books for Environmental Science
Environmental Studies: From Crisis to Cure – Rajagopalan
Shankar IAS Notes on Environment and Ecology
Books on Indian Polity
Constitution of India
Indian Polity by Laxmikant
Governance in India by Lakshmikanth
Books on Indian Economy
Indian Economy – Ramesh Singh
Economic Survey
Uttar Pradesh Year Book
Books on General Science
Science subject NCERTs
General Science – Lucent Publication
Current Affairs
Newspapers
Monthly Magazines
Conclusion
If you have already applied for the jobs conducted by The Uttar Pradesh Subordinate Services Selection Commission and failed to register properly or have any other issues in applying then comment down the issue below. We would help you guide you.
Subscribe for UPSSSC Exams Updates
Currently, there are no exams conducted by UPSSSC. To get the updates about the job right to your inbox, subscribe here.