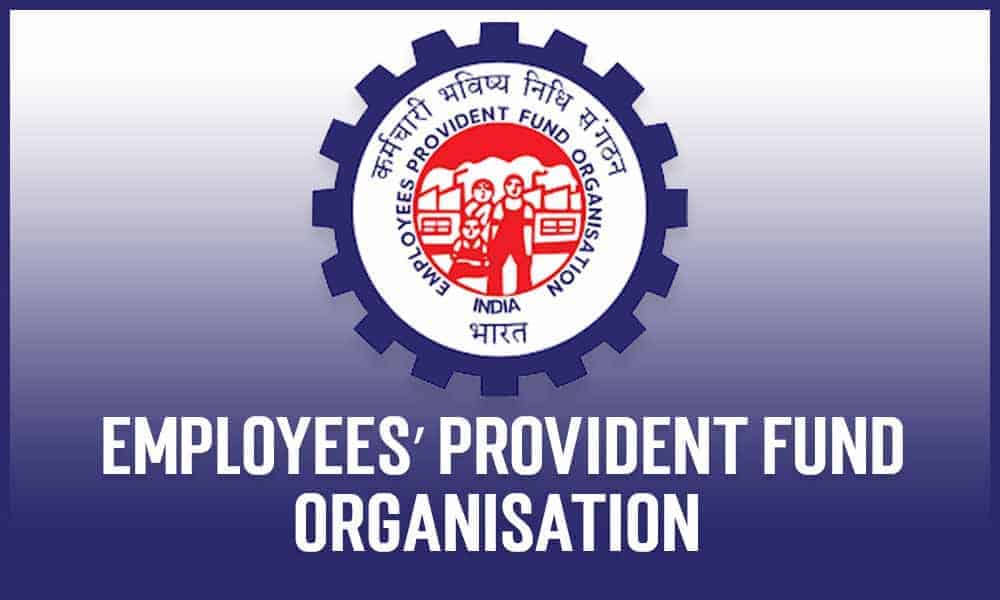 EPFO Recruitment (Employees' Provident Fund Organisation) Hires the best candidates from throughout the India who can take care of Social Security of People.
(Ministry of Labour & Employment, Govt. of India)
Address
Bhavishya Nidhi Bhawan, 14-Bhikaji Cama Place, New Delhi-110066
Description of the Company
EPFO (Employees' Provident Fund Organisation) is one of the World's leading Social Security Organisations in the number of financial transactions. In today's date, It controls over 19.34 crore accounts. This organization came into existence with the on the 15th of November, 1951.
It officially got its name as Employees' Provident Funds Organisation on 15th November 1952. This organization has its branches all over India Now spreading across 135 locations across the country. This company would take care of provident funds, pension schemes and insurance scheme for employees throughout India.
Advantages of Working in Company
EPFO is one of the oldest and most trusted government organization and is managed by the Central Government.
It is spread across 135 geographical locations in India.
This organization follows all the rules and regulations laid by the Ministry of Labour and Employment, Government of India.
Employees who work there would avail of all the facilities that are been given to any of the Government employees like Medical facilities, Government shelters, and other benefits.
Salaries would be paid on time.
You can work in multiple locations throughout India without changing your company.
You would be trained before working there, which would be helpful for you while working.
Vacancy Name and Description
EPFO Recruitment Examination is been conducted by Employees' Provident Fund Organisation to work as Assistant. The application for this exam is usually released on its official site.
Who should Apply?
Any Indian who is between 20 to 27 years old, who has completed his degree and got the degree certificates and wants to work as Assistant in a government organization can apply for epfo recruitment. Special preferences and Age Relaxations are given to the lower cast SC/ST/OBC, and Persons with Disability.
Those who have not completed their degree or still waiting for their results or didn't get their degree are not eligible to apply for this job.
Job Location
If anyone gets a job as an EPFO recruitment then you might get a chance to work in almost 135 geographical locations in India. Most preference is given to the location the candidate has preferred in the application form.
After selection, there will be the training period in which EPFO would decide where to get the training and once the training is done they would be posted to the according to the vacancy of the company or the preferred location of the candidate.
Exam Level:
EPFO recruitment is a National Level Exam and is conducted throughout India. Depending upon the number of vacancies in the company and the number of students who have applied, the level of exams would be decided by EPFO examination department.
Examination Center:
Examination Center for EPFO Recruitment of a Candidate Depends upon the location selected by the candidate in the online application form. This location and date of the exam might change as per the situation. At that time the candidate would be informed about the new date of exam and examination center through the mail id registered by the candidate.
Read More : TSLPRB : Telangana State Level Police Recruitment Board
As a large number of people apply for this exam, this exam is mostly been conducted in National Level Schools and Colleges.
This exam can be conducted throughout India. Below is the list of the places where this exam can be conducted.
Screenshot
Job Type:
To become an employee in EPFO you have to write epfo recruitment examination conducted by EPFO. Once you get Selected then you are a Government Employee.
Important Dates
Last Date for Submission:
25th June, 2019 is the last date for applying for epfo recruitment
Mode of application
One should apply for epfo recruitment through online in the official site itself.
Read More : TRB : Teachers Recruitment Board
Total Vacancies
Only 280 Seats are available. So apply for epfo recruitment now
Exam Pattern
Syllabus
There would be two phases in the epfo recruitment exam.
Phase-1: Preliminary Examination
Phase II: Main Examination
For Both the phases For each wrong answer, there will be a negative marking of one fourth of the mark assigned to that question.
Duration 2 hours 45 minutes
Type of Questions: Descriptive
Examination Mode: Online
Medium Hindi and English
Read More : PSPCL : PUNJAB STATE POWER CORPORATION LIMITED
Qualification Marks:
Qualifying Marks in Preliminary Exam and Main Examination for the EPFO Recruitment will be determined depending upon the discretion of EPFO.
Application Fee
The Application Fee for the EPFO Recruitment is
For SC/ST/PWD, Economically Weaker Section and Female Candidates Rs. 250/-
For All other categories Rs. 500/-
Payment Mode
The payment for EPFO Recruitment must be made online on the official website itself after submitting the documents.
One can pay for the exams using Credit Cards, Internet Banking, Debit Cards (RuPay/Visa/MasterCard /Maestro), Cash Cards/ Mobile Wallets, IMPS.
After submitting your payment information in the online application form, wait until the transaction is completed. Do not refresh the page or press the back button. An e-Receipt will be generated once the transaction is successful.
If the 'E-Receipt' is not generated that means the payment is failed. On failure of payment, Candidates should log in once again and repeat the process of payment.
Read More : TSPSC : Telangana State Public Service Commission
After completion of the payment take a printout of the e-Receipt and online Application Form containing fee details.
Job Profile
Anyone who would get qualified in epfo recruitment would be working as an Assistant EPFO.
Pay Scale
As per the 7th Pay Commission Anyone who gets qualified in epfo recruitment would get paid Rs. 44,900/-. He/She will also enjoy the benefits of DA, HRA and Transport Allowance and other allowances.
How to Apply
If you are Applying for epfo recruitment there are few things that one need to keep in mind before applying.
There is only one way of applying for this job. That is online.
Registrations would be only be done in the official EPFO Website.
There is only limited time for applying for the exam. So each and every second is important.
If the form is filled wrongly then there are chances that your application might get rejected.
Online one application should be submitted
Rules should be strictly followed to while applying the application form and while in the writing exam in the examination hall.
Read More : RPSC : Rajasthan Public Service Commission
Few things that a student must have before applying for EPFO exam:
Photograph (4.5cm × 3.5cm) Size of file should be between 20kb–50 kb and Dimensions should be around of 200 x 230 pixels (preferred).
Left thumb impression ( with black or blue ink on white paper).
Signature (with black ink).
A handwritten declaration (with black ink on a white paper ).
Necessary details/documents for online Online Payment.
Valid personal email ID and mobile no.
EPFO RECRUITMENT APPLICATION REGISTRATION PROCESS
To Apply for epfo recruitment A candidate has to go to the official EPFO website
Click on the option "APPLY ONLINE FOR RECRUITMENT TO THE POST OF ASSISTANT-2019 IN EPFO".
Click on the tab "Click here for Registration" and fill the Name, Email-id and Contact details.
A Registration Number and Password will be generated. Registration Number and Password will be sent to the Registered Email & SMS.
In case the candidate is unable to complete the application form in one go, the Candidate can save all the information entered by clicking "SAVE AND NEXT".
Save your application after Validating your details by clicking the 'Validate your details' and 'Save & Next' button.
Candidates should upload Certificates, Photos, Documents & Signature.
Modify, Verify and Check everything before the 'FINAL SUBMIT'. Once you have submitted the details then you cant edit or modify it.
Click on 'Payment' Tab and proceed for payment.
Click on the 'Submit' button.
Once the application is submitted online, take print out of the submitted online application form.
After Submitting the Application, One can download the Call Letter from the Official Website.
Admission for Examination for epfo recruitment Examination hall will be rejected if:
If signature in place of signature and photo in place of photo is not uploaded properly.
The face of the candidate is not clearly visible.
Signature is not in the Black Ink pen.
The candidate has not put his left thumb impression on a white paper with black or blue ink.
The signature is not of the applicant.
If the Candidate's signature on the attendance sheet signed at the time of the examination, does not match the signature uploaded.
Signature / Handwritten declaration in CAPITAL LETTERS
The handwritten declaration is not of the applicant.
Handwritten declaration content is to be as expected.
Email id or mobile number doesn't match.
Electronic devices like wrist watches, Bluetooth, calculators, pen drive, Mobile phones, laptops, or any other communication devices or wallets/purses, belts, pen/pencil and metallic wears including ornaments etc., are strictly NOT allowed inside the examination hall.
Candidate would not be allowed into the hall if they are late to the exam.
If the candidate verification fails. (Verification will be by checking name and photo from PAN Card/ Passport/ Permanent Driving Licence/ Voter's ID Card/ Bank Passbook with photograph.
List of forms that need to be filled
Admit Card
After making the final payment, one can download the receipt. And then after that one can download the Admit card for epfo recruitment from the same official EPFO website.
After Applying for Exam
After Applying for the exam make sure you increase the rate of your preparation for the epfo recruitment examination.
One have to make prepare a strategy for the exam so as to get good marks.
ONLINE COURSE
FREE MOCK TESTS
PREPARATION STRATEGY
BOOKS 2020
USEFUL VIDEOS
FAQ
Previous experience from the student about the exam
I have attended epfo recruitment examination. I have been preparing for this exam from the time when I left the college. I believe Continuous practice would help to crack this exam easily.
I and my friends used to prepare for government jobs. When we heard about epfo recruitment examination we immediately applied for it. Whenever we used to get time then we used to start preparing for the government jobs. This really helped us.
Conclusion
If you have already applied for the epfo recruitment examination and failed to register properly or have any other issues in applying then comment down the issue below. We would help you guide you.
If you have already written the epfo recruitment examination and want to share the insights then feel free to comment down below so that it would be useful for others.
Read more job related articles in our jobsquare blog section.